PENGARUH IMPLEMENTASI TATA KELOLA SEKTOR PUBLIK YANG BAIK TERHADAP KUALITAS ANGGARAN SKPD
Keywords:
Good Public Governance, Budget Quality
Abstract
The good financial management of local government related to good public governance. The good public governance will encourage the good financial statement in local government, including the quality of Satuan Kerja Perangkat Daerah (SKPD) budget. The aim of this research is to examine the influence of implementation good public governance upon the quality of SKPD budget. This research uses a quantitative approach with survey method. The data was gathered by questionnaire. The number of respondents in the research are 430 public servants (ASN) in Kabupaten/Kota/Provinsi Daerah Istimewa Yogyakarta (DIY), including Kabupaten Sleman, Kabupaten Bantul, Kabupaten Kulonprogo, Kabupaten Gunung Kidul, Pemerintah Kota Yogyakarta, and Pemerintah Provinsi DIY. The Techniqe of data analysis was used in this study is simple regression. The simple regression is a tool to analyze the effect of independent variable (implementation of good public governance) towards dependent variable (the quality of SKPD's budget). The result of this study shows that the implementation of good public governance in Kabupaten/ Kota/Provinsi DIY influences the quality of SKPD budget.
References
Egbide, Ben-Caleb dan Godwyns Ade Agbude. 2014. Good Budgeting and Good Governance: AComparative Discourse.
Ghozali, Imam. 2020. Grand Theory: 25 Teori Besar Ilmu Manajemen, Akuntansi, dan Bisinis. Semarang. Penerbit: Yoga Pratama.
KNKG. 2008. Pedoman Umum Good Public Governance Indonesia.
Locke, E. A., L.M., Saari, K.N. Shaw, G.P. Latham. 1981. Goal Setting and Task Performance: 1969-1980. Psychological Bulletin, Vol. 90, No. 1., 125-152.
Lukviarman, Niki. 2016. Corporate Governance: Menuju Penguatan Konseptual dan Implentasi di Indonesia. Solo. Penerbit: PT Era Adicitra Intermedia.
Mahsun, Mohammad; Firma Sulistiyowati; dan Herbertus Andre Purwanugraha. 2011. Akuntansi Sektor Publik. Edisi Ketiga. Yogyakarta. Penerbit: BPFE
Mardiasmo. 2002. Otonomi dan Manajemen Keuangan Daerah. Yogyakarta: Penerbit: ANDI.
Nurdiono. 2016. Tata Kelola dan Peran Akuntan dalam Mewujudkan Kualitas LKPD. Yogyakarta: Penerbit ANDI.
Octariani, Devie; Akram; dan Animah. 2017. Good Governance, Performance Based Budgeting, dan SKPD Budget Quality (The case of A Structural Model Approach). 2017. Jurnal Kebijakan dan Administrasi Publik, Vol. 21, No. 2.
Peraturan Pemerintah No. 18 Tahun 2016 teantang Perangkat Daerah.
Ronanda, Fransisca Hapsari Cahyani dan Firma Sulistiyowati. 2020. Good Government Governance dan Kualitas Anggaran. 2020. Jurnal Akuntansi dan Governance Andalas, Vol. 3, No. 1, hal. 50-68.
Sekaran, Uma. S dan Rojer. J. Bougie. 2016. Research Method for Business: A Skill-Building Approach. Seventh Edition. John Wiley & Sons Ltd.
Undang-Undang No. 32. Tahun 2004 tentang Pemerintahan Daerah.
Undang-Undang No. 23 Tahun 2014 tentang Pemerintahan Daerah.
Wahyuni, Sri dan Jogiyanto Hartono. 2019. Akuntansi Keperilakuan Pengantar. Yogyakarta. Penerbit: UPP STIM YKPN.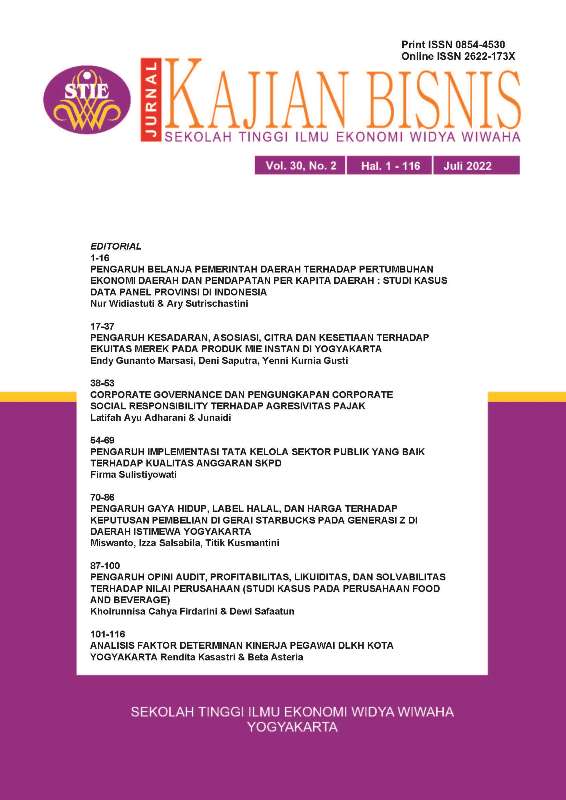 Downloads
How to Cite
Sulistiyowati, F. (2022). PENGARUH IMPLEMENTASI TATA KELOLA SEKTOR PUBLIK YANG BAIK TERHADAP KUALITAS ANGGARAN SKPD. Kajian Bisnis Sekolah Tinggi Ilmu Ekonomi Widya Wiwaha, 30(2), 54–69. https://doi.org/10.32477/jkb.v30i2.357