FAKTOR-FAKTOR YANG MEMPENGARUHI PROSES PENCATATANPEMBAYARAN KARTU DEBIT DAN KARTU KREDIT DI HOTEL GRAND MERCURE YOGYAKARTA
Keywords:
Systems, Procedures, Debit Cards and Credit Cards.
Abstract
The system is a collection of several components that have elements of interrelationship with one another to achieve certain goals. Of course we are familiar with various systems, for example the payment system. The payment system is a method of making payments, in Indonesia we know two payment systems, namely cash and non-cash. In this modern era, with the rapid development of technology, payments are made in a non-cash manner because it is more practical and efficient.The hotel has several departments such as Front Office, Food & Beverage, Housekeeping, Sales and Marketing, Accounting, Engineering, Human Resources and Security.The Accounting Department is one of the departments that also plays an important role in the smooth operation of the hotel.The accounts receivable at the Grand Mercure Yogyakarta hotel have several tasks. The main task is definitely in terms of collection of hotel receivables, not only that the account receivable is also responsible for recording the payment of debit cards and credit cards.Factors that affect the recording process include document completeness, delays in closing transactions, posting errors in the system caused by human error due to credit cards that have several types and also errors caused by the system itself which results in daily reports.
References
Sulastiyono, Agus. 2011. Managemen Penyelenggaraan Hotel. Bangdung: Alfabeta
Widanaputra, A.A.GP dkk. 2009 Akuntansi Perhotelan Pendekatan Sistem Informasi. Yogyakarta: Graha Ilmu
Bagyono. 2007. Pariwisata & Perhotelan. Cetakan kedua. Bandung: Alfabeta
Al Bataafi, Wisnu. 2005. House Keeping Departement, Floor and Publick Area. Bandung: Alfabeta
Harrison Jr., Wlater T., et al. 2011.Akuntansi Keungan. Jakarta: Erlangga
Sumarsan, Thomas. 2013. Akuntansi Dasar dan Aplikasi dalam Bisnis. Jakarta: PT Indeks
Fees, Reeve. Warren. 2005. Pengantar Akuntansi. Jakarta: Selemba Empat
Skousen. 2007. Pengantar Akunansi Keuangan. Jakarta: Selemba Empat
Mursyidi. 2010. Akuntansi Biaya. Bandung: Refika Aditama
Fathansyah. 2015. Basis Data.Bandung: Informatika Bandung
Sutarman. 2012. Pengantar Tekhnologi Informasi. Jakarta: PT Bumi Aksara
Pohan, Chairil Anwar. 2011. Manajemen Perpajakan Strategi Perencanaan Pajak dan Bisnis. Jakarta: PT Gramedia Pustaka Utama
Jusup, Al Haryono. 2012. Dasar-dasar Akuntansi Jilid 1. Yogyakarta: Sekolah Tinggi IlmuEkonomi YKPN
Mulyadi, 2012, Sistem Akuntansi, Salemba Empat
Website:
https://www.bi.go.id/id/edukasi/Pages/Apa-itu-Kartu-Kredit.aspx
https://www.bi.go.id/id/edukasi/Pages/Kartu-ATM-Debet.aspx
https://www.bi.go.id/id/fungsi-utama/sistem-pembayaran/default.aspx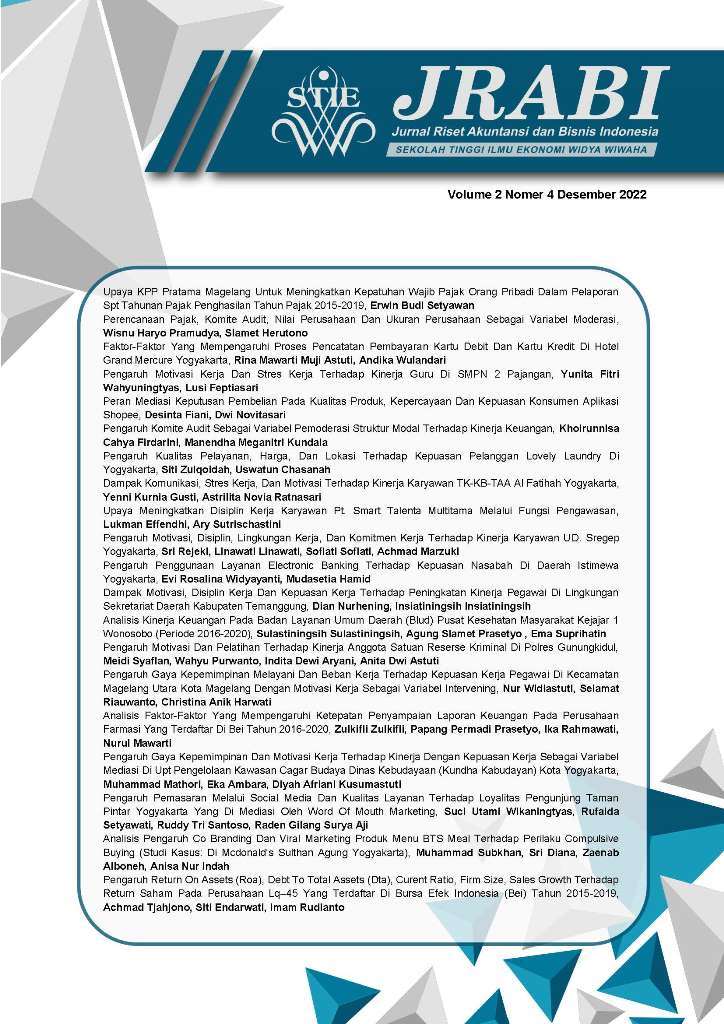 Downloads
How to Cite
Astuti, R. M. M., & Wulandari, A. (2022). FAKTOR-FAKTOR YANG MEMPENGARUHI PROSES PENCATATANPEMBAYARAN KARTU DEBIT DAN KARTU KREDIT DI HOTEL GRAND MERCURE YOGYAKARTA. Jurnal Riset Akuntansi Dan Bisnis Indonesia, 2(4), 1003 –. https://doi.org/10.32477/jrabi.v2i4.607
License