PENGARUH KUALITAS PELAYANAN, HARGA, DAN LOKASI TERHADAP KEPUASAN PELANGGAN LOVELY LAUNDRY DI YOGYAKARTA
Keywords:
product quality, price, place, customer satisfaction.
Abstract
This study was conducted to find out the Effect of Service Quality, Price, And Location on Customer Satisfaction on Lovely Laundry, Jln. Bimo Sakti, Sapen, Yogyakarta City). The type of research used is descriptive quantitative with survey methods. The population in this study is all customers who use laundry services in Lovely Laundry. Sampling in this study using accidental sampling techniques with a total of 167 respondents, while data collection was conducted using questionnaires. Data analysis uses classic assumption tests, multiple linear regression analysis, F-tests, t-tests, and determination coefficients with the help of the SPSS 23 data processing program. The results of this study showed that the quality of service, price, and location simultaneously affect customer satisfaction, and partially the quality of service, price, and location affect customer satisfaction. The results of the determination test showed that customer satisfaction based on Adjusted R Square was 64.1% influenced by variable service quality, price, and location, while 35.9% was influenced by other variables.
References
Ghozali, I. (2005). Aplikasi Analisis Multivariate dengan Program SPSS, Edisi Ketiga. Yogyakarta: STIM YKPN.
Kotler, P. a. (2016). Marketing Managemen. New Jersey: Pearson Education, Inc.
Kotler, Philip. (2001). Manajemen Pemasaran: Analisis,Perencanaan, Implementasi, dan Kontrol. Jakarta: PT. Prehallindo.
Salim, Peter dan Yenny Salim. 2002. Kamus Bahasa Indonesia Kontemporer. Jakarta: Modern English Press.
Solomon, et.al. (2002). Customer Behavior. New Jersey: Prentice Hall.
Sugiyono. (2007). Metode Penelitian Bisnis. Bandung: Alfabeta.
Tjiptono, Fandy. (2009). Manajemen Operasional. Jakarta: Ghalia Indonesia.
Tjiptono, F. (2010). Startegi Pemasaran Edisi Ketiga. Yogyakarta: Andi Offset.
Tjiptono, Fandy dan Chandra, Gregorious. (2011) Service, Quality and Satisfaction. Edisi Ketiga, Yogyakarta: Andi Offset
Tjiptono, Fandy. (2012). Service Management Mewujudkan Layanan Prima. Yogyakarta: Andi Offset.
Usmara. (2009). Strategi Baru Manajemen Pemasaran. Yogyakarta: Amoro.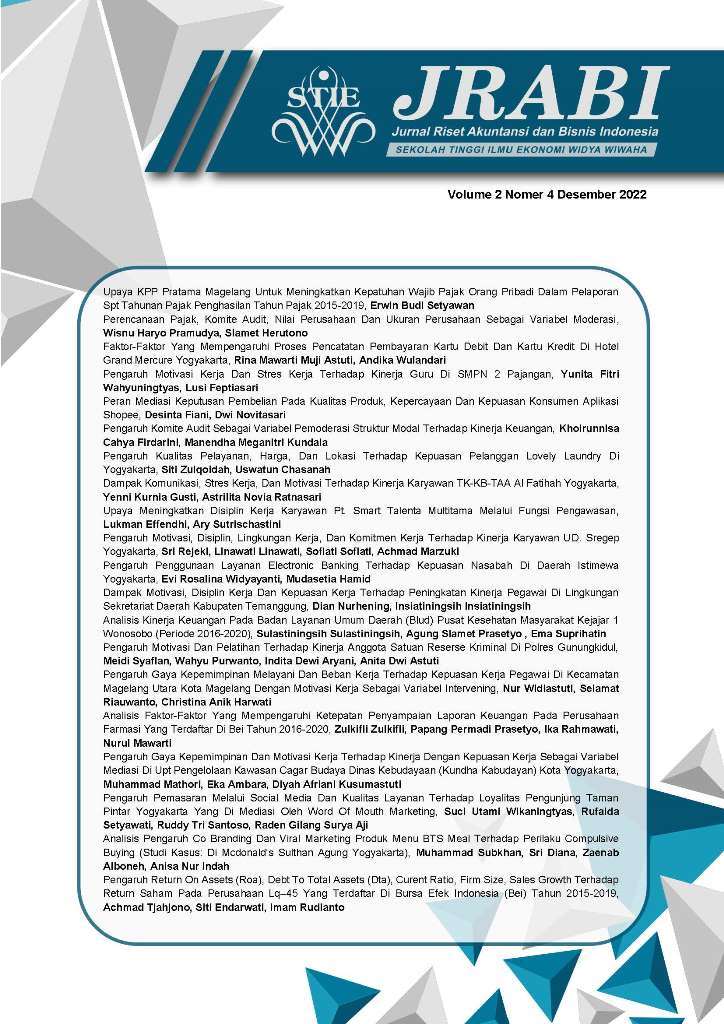 Downloads
How to Cite
Zulqoidah, S., & Chasanah, U. (2022). PENGARUH KUALITAS PELAYANAN, HARGA, DAN LOKASI TERHADAP KEPUASAN PELANGGAN LOVELY LAUNDRY DI YOGYAKARTA. Jurnal Riset Akuntansi Dan Bisnis Indonesia, 2(4), 1069 –. https://doi.org/10.32477/jrabi.v2i4.611
License