DAMPAK KOMUNIKASI, STRES KERJA, DAN MOTIVASI TERHADAP KINERJA KARYAWAN TK-KB-TAA AL FATIHAH YOGYAKARTA
Keywords:
Communication, Job Stress, Motivation, Employee Performance.
Abstract
This study aims to determine and analyze the effect of communication, work stress, and motivation on performance in teachers and employees of TK-KB-TAA Al Fatihah Yogyakarta. This study uses a quantitative method, namely data collection using a questionnaire. The population in this study were all teachers and employees of TK-KB-TAA Al Fatihah Yogyakarta, totaling 50 people and the sample used in this study totaled 45 teachers and employees. The validity test indicates that the statements in this study are valid, while the reliability test using Cronbach Alpha is declared reliable. This study uses Multiple Linear Regression Analysis. The results of the analysis show that (1) Communication has a positive effect on employee performance, (2) Job Stress has a negative effect on employee performance, and (3) Motivation has a positive effect on employee performance.
References
Hasibuan, Malayu SP (2015). Manajemen Sumber Daya Manusia, Edisi Revisi. Jakarta: Bumi Aksara.
Paramita, L., & Sendow, G. (2016). Pengaruh Komunikasi Organisasi Dan Stres Kerja Terhadap Kepuasan Kerja Serta Dampaknya Terhadap Kinerja Karyawan Di Perusahaan Umum Bulog Divisi Regional Sulawesi Utara. Jurnal Riset Ekonomi, Manajemen, Bisnis Dan Akuntansi, 4 (1), 131–142.
Rivaldo, Y., Sulaksono, D. H., Pratama, Y., & Supriadi. (2021). Pengaruh Stres Kerja, Komunikasi, Komitmen Organisasi Dan Motivasi Terhadap Kepuasan Kerja Pegawai Damkar Pemko Batam. Jurnal JUMKA Vol. 1 No. 1,1, 49–58.
Rudianto, B. R. A. (2019). Komunikasi Organisasi, Stres Kerja dan Kinerja Karyawan: Dukungan Sosial Sebagai Variabel Moderasi. Jurnal Akuntansi Bisnis, 17(1), 98. https://doi.org/10.24167/jab.v17i1.2291
Siagian, T.S., &Khair,H. (2018). Pengaruh gaya kepemimpinan dan lingkungan kerja terhadap kinerja karyawan dengan kepuasan kerja sebagai variabel intervening. Jurnal Ilmiah Magister Manajemen ISSN 2623-2634 Vol 1 No 1, 59-70.
Sumantri,E., & Sundari,S.(2020). Analisis stres kerja, komunikasi dan sikap rekan kerja terhadap kinerja karyawan pada usaha kecil di kabupaten banyumas. Jurnal Manajemen & Bisinis, 17(1), 24–37.
Sunyoto, Danang dan Burhanudin.(2015). Teori Perilaku Keorganisasian Dilengkapi: Intervensi Pengembangan Organisasi. Cetakan Pertama. Yogyakarta: CAPS.
Sunyoto, Danang. (2013). Manajemen Sumber Daya Manusia. Jakarta : Center for Academic Publishing Service.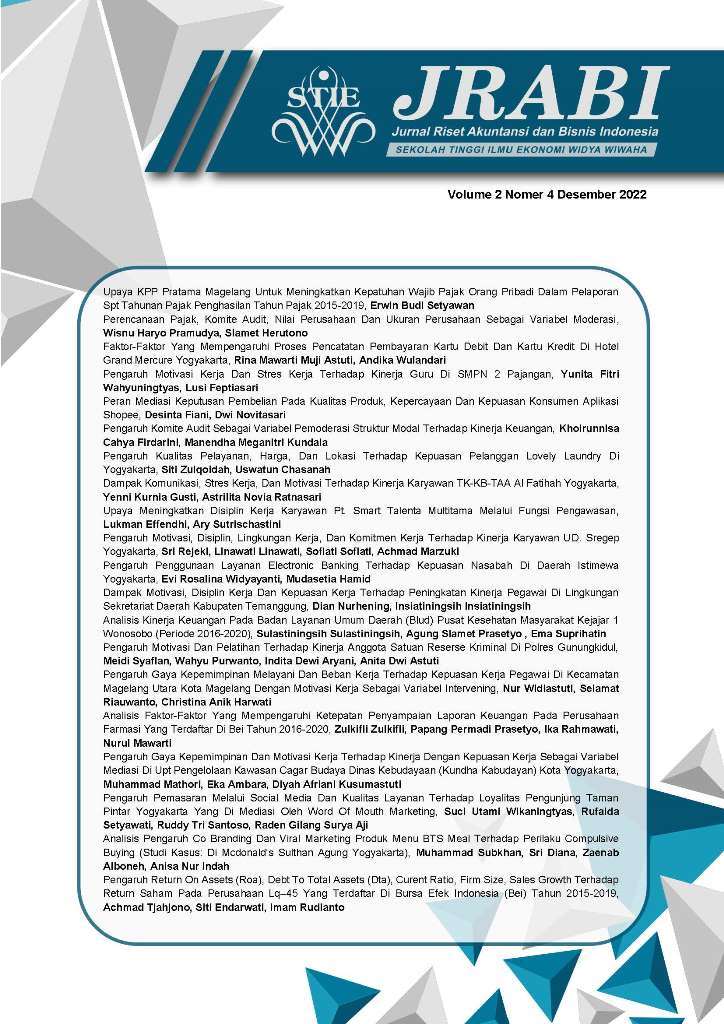 Downloads
How to Cite
Gusti, Y. K., & Ratnasari, A. N. (2022). DAMPAK KOMUNIKASI, STRES KERJA, DAN MOTIVASI TERHADAP KINERJA KARYAWAN TK-KB-TAA AL FATIHAH YOGYAKARTA. Jurnal Riset Akuntansi Dan Bisnis Indonesia, 2(4), 1083 –. https://doi.org/10.32477/jrabi.v2i4.612
License