ANALISIS PROFITABILITAS JOGJA FLIGHT INDONESIA SEBELUM DAN SELAMA PANDEMI COVID-19
(Studi Pada Jogja Flight Indonesia Tahun 2019-2020)
Keywords:
Operating Costs on Operating Income (BOPO)., Net Profit Margin (NPM)., and Return On Assets (ROA)., Profitability., Focus Group Discussion., covid-19.
Abstract
This study is intended to examine differences in profitability levels before the COVID-19 pandemic and during the COVID-19 pandemic which has not yet reached the target expected by the company. The purpose of this study is to describe the level of profitability, to analyze the factors that cause the profitability targets are not met, and to formulate efforts to increase the profitability of each branch at the Jogja Flight Indonesia branch. In analyzing the data, the authors use a quantitative descriptive research design by calculating the profitability value through the analysis of the Ratio of Operating Costs to Operating Income (BOPO), Net Profit Margin (NPM), and Return On Assets (ROA) and qualitative descriptive with observations, interviews, documentation and Focus Group Discussions. The results showed that the ratio of BOPO, NPM and ROA experienced a significant difference between before and during the pandemic. There is a significant decrease seen from the level of profit achieved by the branches from 2019 to 2020 due to decreased revenue while Jogja Flight Indonesia continues to bear operational costs and its assets are also fixed.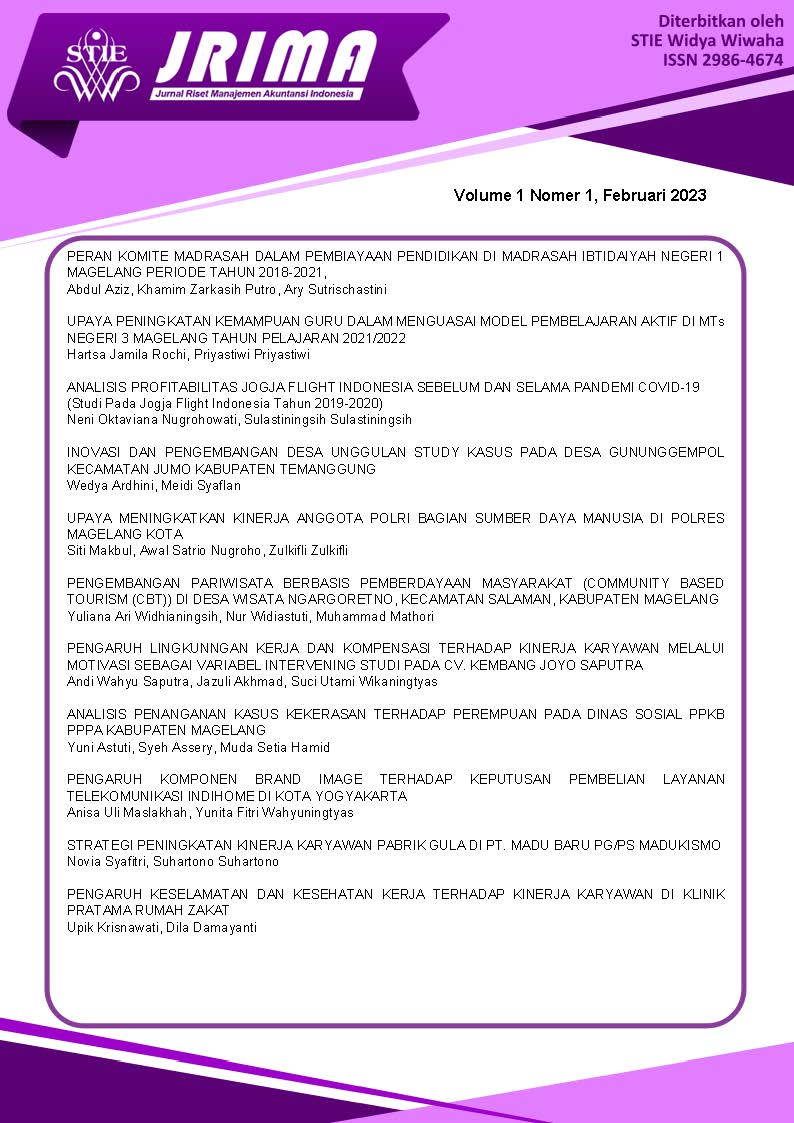 Downloads
How to Cite
Nugrohowati, N. O., & Sulastiningsih, S. (2023). ANALISIS PROFITABILITAS JOGJA FLIGHT INDONESIA SEBELUM DAN SELAMA PANDEMI COVID-19: (Studi Pada Jogja Flight Indonesia Tahun 2019-2020). Jurnal Riset Manajemen Akuntansi Indonesia, 1(1), 49–66. Retrieved from https://jurnal.stieww.ac.id/index.php/jrima/article/view/660
License
Copyright (c) 2023 Neni Oktaviana Nugrohowati, Sulastiningsih
This work is licensed under a Creative Commons Attribution-ShareAlike 4.0 International License.