STRATEGI PENINGKATAN KINERJA KARYAWAN PABRIK GULA DI PT. MADU BARU PG/PS MADUKISMO
Keywords:
Strategy., Employee Performance Improvement.
Abstract
Abstract
Performance management is related to the needs of the organization, leaders and employees. The term performance is often equated with other terms that have similar meanings to performance such as work performance, performance, productivity, proficiency merit, effort, job performance, initiative, loyalty, leadership potential, and work morale. This research was conducted at the Sugar Factory PT. Yogyakarta New Honey on Jalan Padokan, Tirtonirmolo Kasihan, Bantul Yogyakarta. This study aims to analyze and find out how the Performance Improvement Strategy carried out by PT. New Honey. This type of research is descriptive qualitative research. The informant determination technique in this study is to use a purposive model. Data collection techniques using observation techniques, interviews and documentation. Based on the results of research conducted, the implementation of the performance improvement strategy begins with employee recruitment, arrangement according to ability and background, courses, reward and punishment, socialization (management approach), work safety, job evaluation, implementation according to SOP (Standard Operating Procedures), and the discipline of the workers. Constraints that occur in the strategy for improving the performance of employees in the sugar factory section still exist, namely management socialization/approach that is not optimal, the level of education of employees, and training that is not effective due to the pandemic and relatively expensive training costs.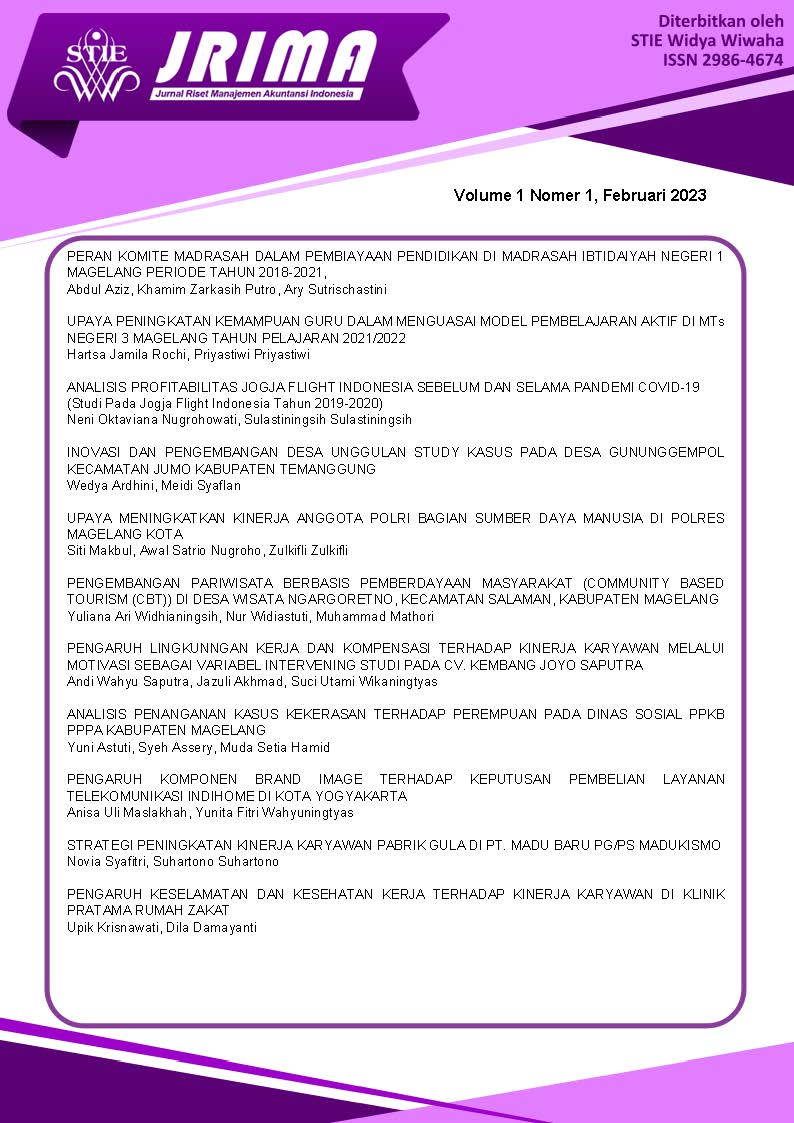 Downloads
How to Cite
Syafitri, N., & Suhartono, S. (2023). STRATEGI PENINGKATAN KINERJA KARYAWAN PABRIK GULA DI PT. MADU BARU PG/PS MADUKISMO. Jurnal Riset Manajemen Akuntansi Indonesia, 1(1), 196–209. Retrieved from https://jurnal.stieww.ac.id/index.php/jrima/article/view/667
License
Copyright (c) 2023 Novia Syafitri, Suhartono
This work is licensed under a Creative Commons Attribution-ShareAlike 4.0 International License.