EVALUASI KINERJA PEGAWAI BAGIAN PENGADAAN BARANG/JASA UNTUK OPTIMALISASI PENGADAAN MELALUI E-PURCHASING
(STUDI KASUS DI LAYANAN PENGADAAN SECARA ELEKTRONIK KABUPATEN TEMANGGUNG)
Keywords:
Procurement of goods/services, Human Resources, e-Purchasing
Abstract
The Goods/Services Procurement Section of Temanggung Regency Regional Secretariat is a government agency whose main task is to facilitate and assist all Regional Apparatus Organizations or Organisasi Perangkat Daerah (OPD) in Temanggung Regency. in the implementation of electronic Procurement Services at the Regional Secretariat of Temanggung Regency through e-purchasing are still not up to the planned target. The lack of willingness to conduct procurement through e-purchasing because they are still used to carry out procurement manually, the lack of human resources, there are also employees who feel that using e-purchasing still takes a lot of time since they also have to work in other units per the assignment letter given by superiors and the reason of inefficient implementation in e- Purchasing is shopping prices are becoming more expensive than the conventional ones, that is the problem that researchers found in this study. The purpose of this research is to identify the factors that impede employee performance in implementing e-purchasing in Temanggung Regency and to formulate strategies that need to be developed to optimize employee performance in implementing e-purchasing in Temanggung Regency. this study uses descriptive qualitative research carried out at LPSE Temanggung Regency. Researchers wish that this research can be useful theoretically, namely knowing the factors in employee performance in the implementation of Electronic Procurement in Temanggung Regency and can be some input for officials or officers at the Procurement Service Unit or Unit Layanan Pengadaan (ULP) in the scope of Temanggung Regency and will be practically useful for Regional Government, also can be a reference for government agencies in optimizing employee performance in the implementation of Electronic Procurement and can be a reference in the form of theoretical knowledge and concepts for further research related to Performance Improvement in the implementation of Electronic Procurement in other government agencies.
References
Airlangga, (2010), Perilaku Organisasi, Edisi Keenam Belas, Jakarta: Salemba Empat. Angrina, Rika. (2017), "Pengaruh Penerapan E-Procurement, Kompetensi PejabatPembuat
Komitmen Tehadap Pelaksanaan Pengadaan Barang/Jasa dan Implikasinya terhadap Penyerapan Modal pada Organisasi Perangkat Daerah (Studi Empiris pada Kabupaten Tanah Datar)", Journal Akuntasi, Vo. 5 No. 2.
Anwar, Saifudin. (2001), Metode Penelitian Pendidikan, Yogyakarta: Pustaka Belajar. Anwar Prabu Mangkunegara. (2005), Evaluasi Kinerja Sumber Daya Manusia, Bandung:
Penerbit Refika Aditama.
Arikunto. (2013), Prosedur Penelitian: Suatu Pendekatan Praktik, Edisi Kelima, Jakarta: Rineka Cipta.
Chaffey. (2007), "E-Bussiness and E-commerce managemenet, Strategy, Implementation and Practice," Journal of Financial Times Prentice hall, P. 6.
Creswell, John W. (2007), Qualitative Inquiry & Research Design Choosing Among Five Apporoaches. California: Sage Publication Inc.
Croom dan Jones. (2007), Sistem Pengadaan dengan e-procurement, Jakarta: Erlangga. Dessler, Gary. (2008), Manajemen Sumber daya Manusia. Jakarta: Indeks.
Hashim,N.,Said,I., dan Idris,N.H. (2013), "Exploring e-Procurement Value for Construction Companies in Malaysia," Journal Procedia Technology, P 836-845.
Koropit, Karamoy & Manossoh. (2016), "Pentingnya Kompetensi Pejabat Pembuat Komitmen Pengadaan Barang/Jasa Pemerintah di Kabupaten Kepulauan Talaud Dalam Melaksanakan Tugas Poko dan Kewenangannya sesuai Perpres Nomor 54 Tahun 2010", Journal Riset Akuntasi dan Auditing, Vo. 7 No. 2.
Londong, Amelia. (2018), "Faktor-Faktor Yang Mempengaruhi Kinerja Pegawai Negeri Sipil Kota Manado." Skripsi Universitas Samratulangi Dipublikasikan.
Mangkunegara. (2012), Evaluasi Kinerja Sumber Daya Manusia, Bandung: PT. Rafika Aditama.
Mathis.L.Robert dan Jackson.H.John. (2001), Manajemen Sumber Daya Manusia, Buku kedua, Jakarta: Salemba.
Moleong, Lexy J. (2018), Metodologi Penelitian Kualitatif. Bandung: PT Rosdakarya.
Siahaya, Willem. (2012), Manajemen Pengadaan Procurement Management. Bandung: Alfabeta.
Sugiyono. (2019), Metode Penelitian Kuantitatif, Kulitatif dan R&D, Bandung: Alphabet. Sutrisno, Edi. (2009), Manajemen Sumber Daya Manusia. Jakarta: Kencana Prenada Media Grup.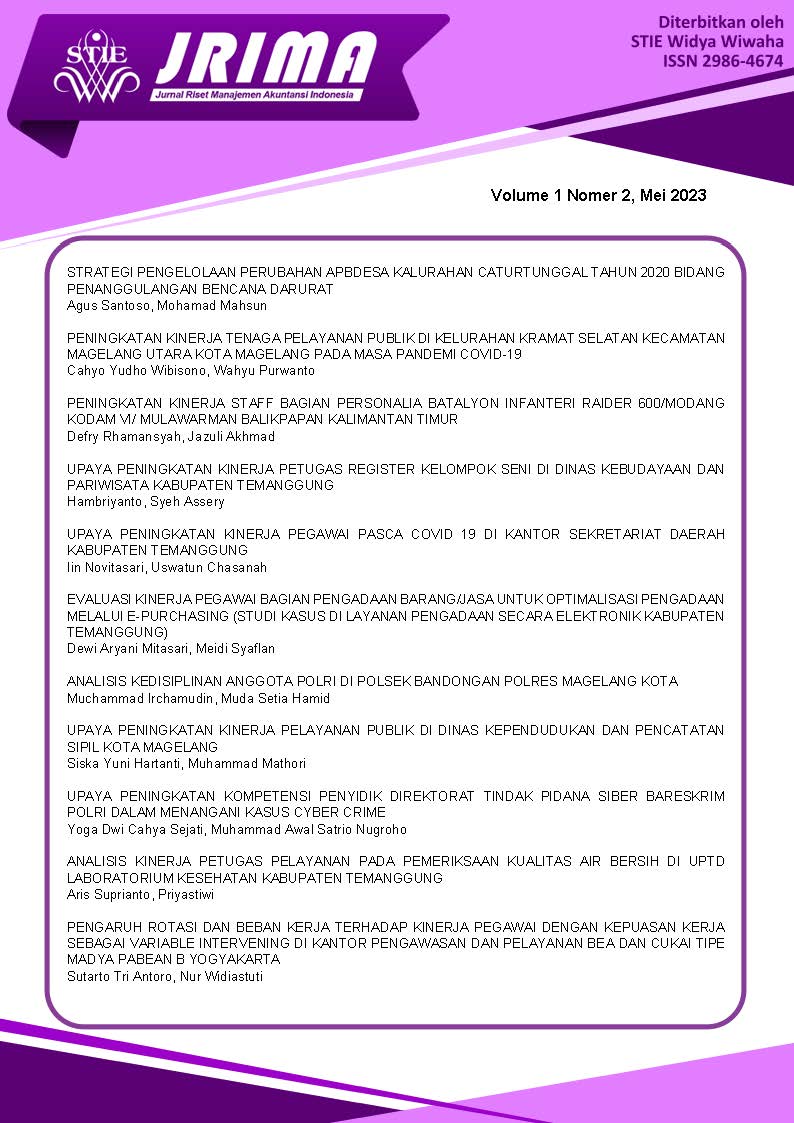 Downloads
How to Cite
Mitasari, D. A., & Syaflan, M. (2023). EVALUASI KINERJA PEGAWAI BAGIAN PENGADAAN BARANG/JASA UNTUK OPTIMALISASI PENGADAAN MELALUI E-PURCHASING : (STUDI KASUS DI LAYANAN PENGADAAN SECARA ELEKTRONIK KABUPATEN TEMANGGUNG). Jurnal Riset Manajemen Akuntansi Indonesia, 1(2), 329 –. https://doi.org/10.32477/jrima.v1i2.696
License
Copyright (c) 2023 Dewi Aryani Mitasari, Meidi Syaflan
This work is licensed under a Creative Commons Attribution-ShareAlike 4.0 International License.