THE FUTURE OF WORK : TOLERANSI RISIKO, KEADILAN ORGANISASI, DAN KEBEBASAN DALAM BEKERJA TERHADAP MINAT BEKERJA MAHASISWA UNIVERSITAS SARJANAWIYATA TAMANSISWA
Keywords:
Risk Tolerance, Organizational Justice, Freedom of Work, Interest in Working, The Future of Work
Abstract
Technological sophistication is the essential thing needed to develop all aspects of industrial revolution 4.0. It emphasizes expanding job prospects and maximizing responsibility for completing work with a different approach. This revolution is related to the young millennial generation and Z generation in choosing the field of work. This generation prioritizes flexibility and simplicity and works effectively and efficiently. Different from the previous generation, they expected that everything should be organized with various bureaucratic and administrative policies. Currently, Z generation is primarily students in Higher Education. The actual situation shows that most students have no plans to decide the type of work they want to. They doubt about their passion and potential. Therefore, this study aimed to map the students' work plans so that supervisors can direct their interest in concentration according to their potential. This study identified and proved the suitable work system for Z generation. In addition, this research aimed to find out whether risk tolerance, justice, and freedom at work affect the student's interest in working in the future. The population was students of the Management Program, Faculty of Economics, Universitas Sarjanawiyata Tamansiswa. The method used multiple regression analysis methods to test the relationship pattern that has a theoretical basis. The result of this study showed that risk tolerance and justice positively affect the interest to work in the future. Nevertheless, freedom of work does not affect interest to work in the future.
References
Armstrong, 2000, A Handbook of Human Resource Management Practice, 7th edn., Kogan Page, London.
Choi, S., 2011, 'Organizational justice and employee work attitudes: The federal case', American Review of Public Administration, 41(2), 185–204.
Ghozali, 2011, Aplikasi analisis multivariate dengan program IBM dan SPSS, BP Universitas Diponegoro, Semarang.
Marsh, E., Vallejos, E.P. & Spence, A., 2022, The digital workplace and its dark side: An integrative review, Computers in Human Behavior, 128.
Miles, R.E. & Snow, C.C., 1978, Organizational Strategy, Structure, and Process, McGraw-Hill, New York.
Mustajab, D., Bauw, A., Rasyid, A., Irawan, A., Akbar, M.A. & Hamid, M.A., 2020, 'Working from home phenomenon as an effort to prevent COVID-19 attacks and its impacts on work productivity', The International Journal of Applied Business, 4(1), 13–21.
Owolabi, A.B., 2012, 'Effect of Organizational Justice and Organizational Environment on Turn-Over Intention of Health Workers in Ekiti State, Nigeria', Research in World Economy, 3(1).
Permanasari, F.M., Kuncara, H. & Warokka, A., 2020, 'Faktor Demografi Pada Pekerja Muda di Indonesia', Jurnal Riset Manajemen Sains Indonesia (JRMSI) |, 11(2), 2301–8313.
Putra, F.A.D., 2020, Karakteristik Generasi Z di Yogyakarta Tahun 2019 – PhD thesis.
Qomariyah, N., 2010, Hubungan Antara Toleransi Terhadap Stres dengan Sikap Pengambilan Risiko Pada Karyawan PT PLN Persero di Madiun – PhD thesis.
Santoni de Sio, F., Almeida, T. & Hoven, J. van den, 2021, 'The future of work: freedom, justice and capital in the age of artificial intelligence', Critical Review of International Social and Political Philosophy.
Sirait, N.M. & Susanty, A., 2016, 'Analisis Risiko Operasional Berdasarkan Pendekatan Enterprise Risk Management (ERM) Pada Perusahaan Pembuatan Kardus di CV Mitra Dunia Palletindo', Industrial Engineering Online Journal, 5(4).
Trenerry, B., Chng, S., Wang, Y., Suhaila, Z.S., Lim, S.S., Lu, H.Y. & Oh, P.H., 2021, Preparing Workplaces for Digital Transformation: An Integrative Review and Framework of Multi-Level Factors, Frontiers in Psychology, 12.
Tsao, C.W., Breton-Miller, I. le, Miller, D. & Chen, S.J., 2021, 'Firing managers: The benefits of family ownership and costs of family management', Journal of Family Business Strategy, 12(3).
Tuukkanen, V., Wolgsjö, E. & Rusu, L., 2021, Cultural Values in Digital Transformation in a Small Company, Procedia Computer Science, vol. 196, 3–12, Elsevier B.V.
Verbeke, A. & Kano, L., 2012, 'The Transaction Cost Economics Theory of the Family Firm: Family-Based Human Asset Specificity and the Bifurcation Bias', Entrepreneurship: Theory and Practice, 36(6), 1183–1205.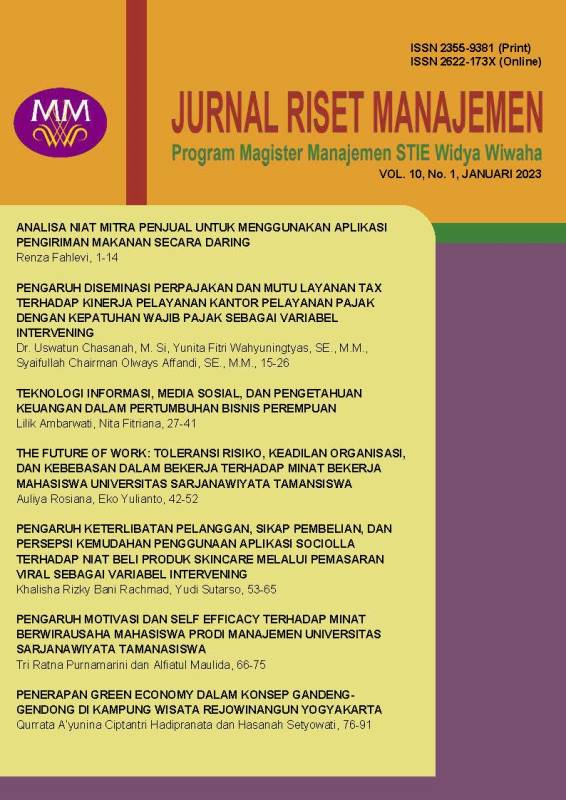 Downloads
How to Cite
Rosiana, A., & Yulianto, E. (2023). THE FUTURE OF WORK : TOLERANSI RISIKO, KEADILAN ORGANISASI, DAN KEBEBASAN DALAM BEKERJA TERHADAP MINAT BEKERJA MAHASISWA UNIVERSITAS SARJANAWIYATA TAMANSISWA. Jurnal Riset Manajemen Sekolah Tinggi Ilmu Ekonomi Widya Wiwaha Program Magister Manajemen, 10(1), 42–52. https://doi.org/10.32477/jrm.v10i1.513
License
Copyright (c) 2023 Auliya Rosiana, Eko Yulianto
This work is licensed under a Creative Commons Attribution-ShareAlike 4.0 International License.