MEMBANGUN GREEN ENTREPRENEUR BERBASIS IPTEKS DAN SPIRITUAL MAHASISWA STIE WIDYA WIWHA
Keywords:
Green Entrepreneur, Ipteks, Spiritual, Motivasi Berwirausaha
Abstract
Pengabdian kepada Masyarakat ini bertujuan untuk membangun spirit kewirausahaan, kemandirian dan kemampuan manajerial bagi mahasiswa STIE Widya Wiwaha. Peserta program ini 20 orang calon wirausahawan dari kalangan mahasiswa dan alumni terpilih. Luaran dari pengabdian masyarakat ini adalah lima wirausahawan mandiri yang terdiri dari dua wirausahawan mandiri bidang kue kering, dua wirausahawan mandiri bidang hidroponik dan satu wirausahawan mandiri bidang kerajinan membatik. Kelima wirausahawan mandiri ini memiliki: 1) Kemampuan manajerial meliputi manajemen produksi, manajemen SDM, manajemen keuangan dan manajemen pemasaran, 2) Memiliki kemampuan mengaplikasikan Ipteks pada proses produksi, marketing dan pelaporan keuangan, 3) Memiliki jiwa kewirausahaan berbasis green business dan spiritual.
Dalam rangka mewujudkan luaran pengabdian kepada masyarakat ini dilaksanakan serangkaian kegiatan pelatihan, yaitu, Pertama: pelatihan kewirausahaan yang bertujuan membekali mahasiswa dengan kemampuan manajerial dalam mengelola bisnis, kemampuan mengimplementasikan ipteks dalam bisnis dan membekali jiwa kewirausahaan berbasis green business dan spiritual. Kedua, pelatihan praktek produksi, praktek pemasaran dan praktek menjual serta magang di industri mitra. Seluruh peserta pelatihan diberikan pelatihan Green Entrepeneur mandiri berbasis ipteks dan spiritual dengan bobot: pelatihan kewirausahaan 25%, praktik produksi 30%, praktik pemasaran 25% dan praktik menjual 20%.Pada tahap ketiga, seluruh peserta diberikan bantuan teknologi dalam bentuk kepemilikan website serta teknik promosi secara on line dan diberikan bantuan berupa peralatan produksi. Selanjutnya mereka diwajibkan mempraktekkan bisnis secara langsung sesuai dengan teori yang telah diberikan dibawah pengawasan tim dan industri mitra. Secara periodik, setiap akhir bulan peserta diwajibkan menyusun laporan keuangan dan laporan perkembangan kinerja bisnisnya. Dari hasil evaluasi dan monitoring dipilih lima (5) wirausahawan mandiri yang terus dibina sehingga menjadi green entrepreneur mandiri dan dan sukses.
References
Affandy, Adil (2015), Pengaruh Pengetahuan tentang Lingkungan, Sikap pada Lingkungan dan Norma Subyektif terhadap Niat Pembelian Green Product, Jurnal Ekonomi dan Kewirausahaan, Vol.15, Edisi Khusus, hal 1-7.
Astuti D., dkk. (2013), Kesempatan Terbatas, Tapi Pilih-pilih Kerja, Kedaulatan Rakyat, diakses 6 April 2016.
Arseculeratne,D.&Yazdanifard, R. (2014), How Green Marketing Can Create a Sustainable Competittive Advantage for Business, International Business Research, Vol.7, pp.130-137.
Bakary, Ali, M. (2013), Green Entrepreneurial Practices among Small and Medium Entreprises in Mombassa County, Kenya, Thesis, University of Nairobi.
Biro Pusat Statistik Provinsi Daerah Istimewa Yogyakarta (2014), Laporan Eksekutif Sensus Penduduk Provinsi DIY Tahun 2014.
Boztepe, A. (2012), Green Marketing and Its Impact on Consumer Buying Behavior, European Journal of Economic and Political Studies, Vol 1, pp.5-21.
Brown, D.T. &Rotledge, E.C. (2011), Energy the Environment and Delaware Jobs: Declining and Describing Green Business, University of Delaware, pp.116
Cherian, J. & Jacob, J. (2012), Green Marketing : A Study of Consumers' Attitude towards Environment Friendly Products, Asian Social Science, Vo. 8, No. 12.
Cekanavicius, L., Bazyte, R. &Dicmonaite, A. (2014), Green Business : Challenges and Practices, Ekonomika, Vol.93, No 1, hal. 74-88.
Cooney, S. (2009), Build a Green Small Business: Profitable Ways to Become an Entrepreneur, New York: Mc.Graw Hill, pp.256.
Croston, G. (2009), Starting Green: An Ecopreneurs Toolkit for Starting a Green Business from Business Plan to Profit, Entrepreneur Press, pp. 324.
Delafrooz, N., Taleghani, M. & Nouri, B. (2014), Effect of Green Marketing on Consumer Purchase Behavior, http ://www.qscience.com/doi/pdf/10.5339/connect/20145
Eanhart&Lizal (2010), Targeting Consumers Who are Willing to Pay More for Environmentally Friendly Product, Journal of Consumer Marketing, Vol.18, No.6, pp.503-520
Farinelli, F., et.al. (2011), Green Entrepreneurship: The Missing Link Towards a Greener Economy, ATDF Journal, Vol.8, No. 3.
Handoko, Sri (2012), Model Pengembangan Green Business melalui Corporate Social Responsibility pada Perusahaan Go Public di Bursa Efek Indonesia, Jurnal Aset, Vol 14, No 1, Linawati, Evi & Restuti Mi Mitha Dwi (2015), Pengetahuan Akuntansi Pelaku Usaha Mikro, Kecil dan Menengah (UMKM) Atas Penggunaan Informasi Akuntansi, Conference In Business, Accounting and Management, Vol.2, No. 1.Maret, hal.75-82.
Heryawan, A. (2016), Transformasi Paradigma Menuju Tatanan Kehidupan yang Sejahtera dan Berkeadilan, StudiumGenerale IV, Program Pascasarjana, Universitas Islam Indonesia, 25 April.
H. Mida, et.al. (2008), Determinant of Pro Environmental Behaviours within Individual Consumers", Journal of Economic Literature (JIL) Classification, Vol.31, No.2, pp.1-12.
Kaufmann, H., Panni, M. &Orphanidou, Y. (2012), Factors Affecting Consumers Green Purchasing Behavior: An Integrated Conceptual Framework, http://www. amfiteatrueconomic. ro/temp/article_1100.pdf
Kementerian Perindustrian, Pembangunan Industri 2015-2019, 2014.
Kementarian Koperasi dan Usaha Kecil Menengah Republik Indonesia, (2012), www.depkop.go.id.
Kinoti, M.W. (2011),Green Marketing Intervention Startegis and Sustainable Development: A Conceptual Paper, International Journal of Business and Social Science, Vol.2, No. 23.
Mardianto, (2008), Pengembangan Energi Alternatif Bio-fuel untuk Mewujudkan Desa Mandiri Pangan dan Energi Berbasis Umbi-umbian, Jurnal Riset Daerah: Badan Perencanaan Pembangunan Daerah Kabupaten Bantul, Propinsi DIY, Vol VII, No. 2.
Maryatmo, (2013), Kebijakan dan Strategi Pembangunan Ekonomi DIY, Yogyakarta: Forum Diskusi Ekonomi, Universitas Atmajaya.
Piekarski, C.M., etal., (2013), Life Cycle Assessment as Entrepreneurial Tool for Business Management and Green Innovations, Journal of Technology Management & Innovation, Vol.8, No.1.
Lako, Andreas.(2013), Manfaat Green Business, Koran Sindo
Makower, J.&Pike,C. (2009), Strategies for the Green Economy: Opportunities and Challenges in the World of Business, New York : Mac Graw Hill, pp.290.
Skinner & Ivancevich (1002), Concerns about Green Marketing,International Journal of Wine Marketing, Vol.4, No. 2, pp.21-24.
Slovik, K. (2013), Nine Steps to Greening Your Busniess, Entreprenur Press, pp. 324.
Suarja, W. (2007), Pemberdayaan Ekonomi Rakyat melalui Program Pemberdayaan Koperasi dan Usaha Mikro Kecil dan Menengah, Konvensi Nasional, Februari.
Suranta&Pratana. (2004), The Future of Organization Development: Enabling Sustainable Business Performance through People, Organzation Development Journal, Vol.25, No.2, pp. 1-16,
Susilo, Sri. (2007), Masalah dan DinamikaUsahaKecil : Studi Empiris Pedagang Klithikandi Alun-Alun Selatan Yogyakarta, Jurnal Ekonomi, Vol.12, No.1., hal 64-77.
Suyanto (2015), Pengaruh Kompetensi Sumber Daya Manusia terhadap Kinerja UMKM", Jurnal Manajemen dan Kewirausahaan, Vol 12, No 1, hal. 56-77.
Sudaryanto, Ragimundan Wijayanti, R.R. (2014), Strategi Pemberdayaan UMKM Menghadapi Pasar Bebas ASEAN, Universitas Negeri Jember: Fakultas Ekonomi, hal.1-31.
Su'ud, M. (2008), Pengaruh Kepemimpinan Transformasional dan Transaksional, Pemberdayaan dan Komitmen pada Kinerja, Disertasi, Universitas Gadjah Mada.
Tanjung, H. (2012), Konsep Manajemen Syariah, Jurnal Khasanah, Vol. 2, No. 2.
Wardhani, D.M. (2012), Pembangunan Perekonomian Nasionalmelalui Peningkatan Kewirausahaan, http://www.ilerning.com.
Waskito, J. &Harsono, M. (2012), Green Consumer: Deskripsi Tingkat Kesadaran dan Kepedulian Masyarakat Joglosemar terhadap Kelestarian Lingkungan, Vol.3, No.1, hal.29-39.
Zimmerrer, T.M. & Scarborough, N.M, (2005), Essential of Entrepreneurship and Small Business Management, Ed.4, Prentice Hall Inc, New Jersey.
Yazdanifard, R. & Mercy, I.E. (2011), The Impact of Green Marketing on Customer Satisfaction and Environmental Safety, International Conference on Computer Communication and Management, Vol.5.
Yeng, W.F. &Yazdanifard, R. (2015), Green Marketing: A Study of Consumers' Buying Behavior in Relation to Green Products, Global Journal of Management and Business Research Marketing, Volume 15, No. 5, pp.16-23.
Yusoff, Y.M., et.al. (2015), Conceptualization of Green Human Resource Management: An Exploratory Study from Malaysian – Based Multinational Companies, International Journal of Business Management and Economic Research (IJBMER), Vol. 6, No. 3, pp.158-166.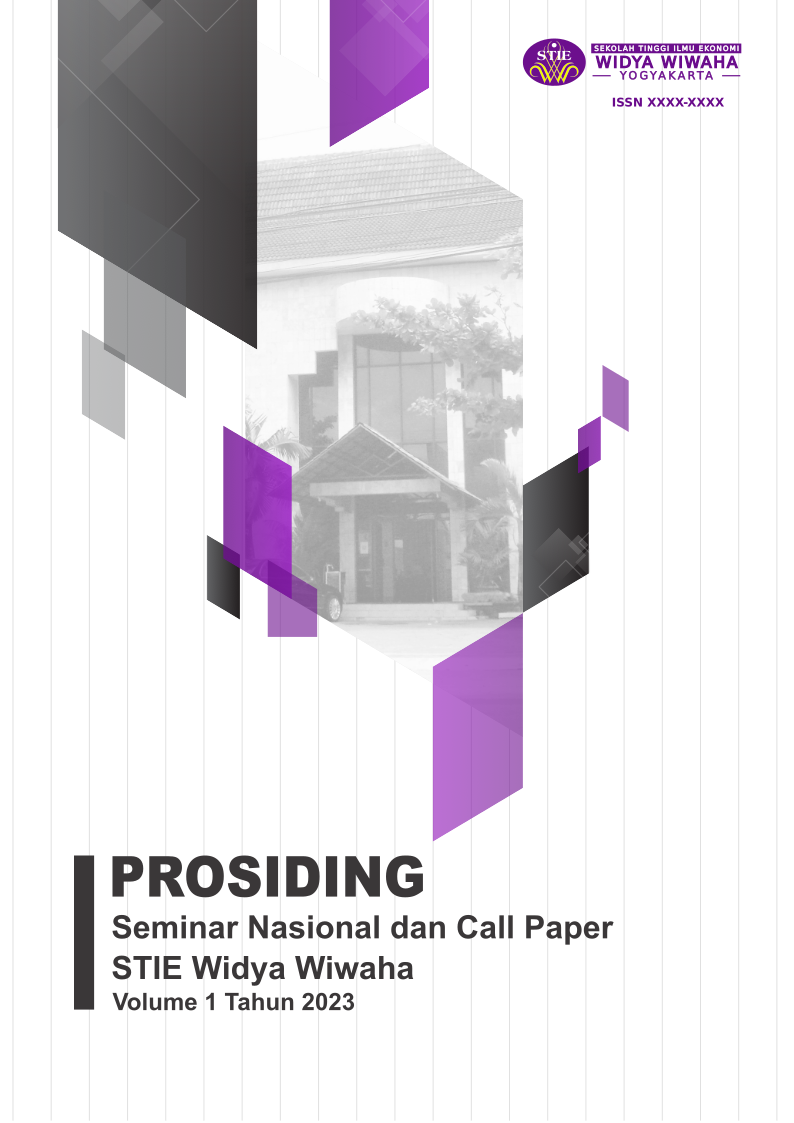 Downloads
How to Cite
Sulastiningsih, S., Novitasari, D., Wikaningtyas, S. U., Hidayatulloh, H., Tama, Y. A., Wahyuni, T., & Pana, V. (2023). MEMBANGUN GREEN ENTREPRENEUR BERBASIS IPTEKS DAN SPIRITUAL MAHASISWA STIE WIDYA WIWHA. Prosiding Seminar Nasional Dan Call Paper STIE Widya Wiwaha, 1(1), 445–454. Retrieved from https://jurnal.stieww.ac.id/index.php/semnas/article/view/753
License
Copyright (c) 2023 Sulastiningsih, Dwi Novitasari, Suci Utami Wikaningtyas, Hidayatulloh, Yudha Adi Tama, Tri Wahyuni, dan Valen Pana
This work is licensed under a Creative Commons Attribution-ShareAlike 4.0 International License.